---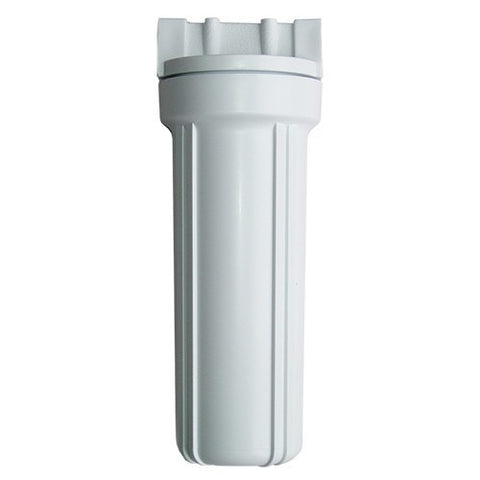 Single Element Sediment Filter
Having trouble selecting the right heater? We're only a phone call away until midnight every day.
---
A single element sediment filter will preserve the life of your heater.
Keep calcium, lime and iron out.
Increase the lifespan of your heater while maintaining it's efficiency.
Ships with one replaceable cartridge.
Perfect filter for all of our tankless water heaters
NEVER DESCALE YOUR HEATER AGAIN!
This filter is specifically designed for tankless water heaters to maintain the proper GPM flowrate which is crucial to it's performance. A single element sediment filter will preserve the life of your heater by protecting the integrity of the flow switch. The flow switch is vital to a heaters performance and longevity as the heater is switched on and off automatically over five million times in its life. Keeping the flow switch clean and free of debris is of utmost importance and will keep your heater running problem free for many years to come. In addition, this filter will keep calcium, lime and iron out of your heater's heat exchanger thus preventing the buildup of this sediment and increasing the lifespan of your heater while maintaining it's efficiency. This simple-to-install filter will save you time and money as it will enhance your heaters life expectancy and save you from costly maintenance, repairs or replacements in the future. These filters are specifically made to maintain the optimal flow rate to your heater while keeping it free of damaging debris and sediment.
---
What size fittings does this filter use?

The single element sediment filter has 3/4" female connections on both sides. We recommend using shark bite fittings in order to connect your filter to either PVC or copper.

How often should I change my filter?

The frequency that you change your filter can depend on a few factors including your incoming water quality, and your frequency of water usage. We typically recommend changing your filter every 6 months. If at the 6 month mark, you notice your filter is very dirty, you may decide to change your filters more often. If at the 6 month mark you notice your filter is still clean, you may decide to give it more time between filter changes.

I received my replacement sediment filter for my S-16. It's bigger than the original one that I installed. Does this filter work for this model??

Yes, absolutely.

We have an older model Takugi TK-2 with a max 6.9GPM. We need to replace the entire housing of the sediment filter. Will this work and is the GPM enough? we got a plumber that tried to have us buy the WI-HP-Secure-1.5 which I think is overkill: https://www.faucetdepot.com/prod/Water-Inc-WI-HP-SECURE-1.5-HousePure-Secure-Tankless-Water-Heater-Filter-System-181955.asp

Our filter does the job up to 15 gpm at 100 PSI.

Can this be mounted outdoors? I 'am installing a outdoor tankless unit. I live in So Cal where temp rarely goes below freezing.

Yes you may.

Does it have a mounting bracket?

Yes, housing, mounting bracket, cartridge and wrench.

How to change filter

Please contact our customer service dept Mon -Friday 9 to 5. They will email you concise instructions on how to change your filter with ease.305-823-6991. Thank you for your question. It's a pleasure to serve you.

I have a Titan N-100, Series SCR2. Would you recommend this filter ?

Yes I would, it will extend life of heater.

I have a whole house water filter system. Is there still a need for any additional filters for the tankless water heater?

Yes I would put one the heater to play it safer.

What size are the replacement o-rings for this filter housing? Where can I acquire them?

Call us we have them in stock.

What filter sizes can I use 10"x2.5", 10"x 4.5"? Can the 1 micron filters be used or stick with 5 micron?

Any of the 2 sizes are fine. Go with 10 to 30 micron, No less than 10 micron.
---
More from this collection