---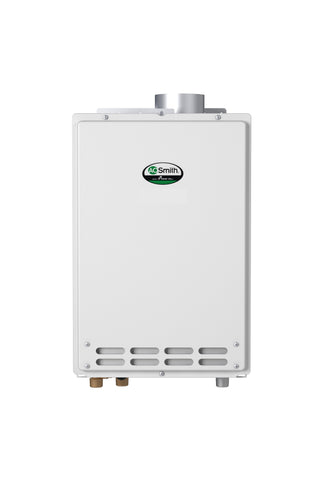 A.O. Smith Tankless Water Heater Non-Condensing Outdoor 140,000 BTU Natural Gas
---
Great for apartments or 1 bath homes in moderate climate, and up to 2.5 baths in warm climates.
The ATO-110-N tankless water heater uses up to 140,000 BTU per hour in order to deliver endless hot water.
When hot water is demanded, a flow sensor sends a signal to the units internal computer. The computer then activates the heating system. Heat is transferred to the water as it flows through the heating elements and an outgoing water temperature sensor keeps water temperature within +/- 1ºF of chosen temperature. Once the hot water tap is closed, the heater automatically powers off.
Details
Emissions: Utra-Low NOx
Maximum BTU: 140,000
Minimum BTU: 19,500
Voltage: 120V
Water Connection Location: Bottom
Water Connection Size: 3/4"
Heating Element: Copper
Remote Controlled
Warranty: 5 years / 15 years
Tech Specs 
140,000 BTU at 120 Volts
Pipe fittings: 3/4"
Weight: 33 lbs
Dimensions:

Height: 20 1/4"
Width: 13 3/4"
Depth: 7 3/4"
---
More from this collection